This feature means A LOT to me, but for deeper reasons than one might think. It is a manifestation of a few personal and spiritual lessons I've learned on how all things come to fruition in the exact moment that they are supposed to, and not a second sooner.  You see, I didn't ask to be in this issue, wasn't expecting it, and had no clue that it would even happen. Isn't that amazing?!? It is to me! A few months prior to this, I felt super anxious and unsure about my blog. Frankly, I was over it. I knew that things needed to change in order for it to be taken to the next level. So I made it a point to put more effort into my posts even if that meant not posting as often and to use more quality photos. Both things happened and I was content with my progress. I also decided to stop comparing my blog to others, worrying about numbers,
who liked what, and thinking that it would become X if only Z happened. I let go. I made a conscious effort to just go with the flow. And guess what happened…everything that I worried about started to turn around! Then one super random day, I got an UNEXPECTED email.
"This is so and so from Marie Claire Magazine (Ummmm excuse me)…we have noticed your blog (But I don't have a gazillion followers) we will be coming to Detroit, would you like to shoot for the magazine (Is this foreal? Uhhhh YES!)…and just like that it happened.
What you should take away from this is that there is ALWAYS something to be excited about!  And just like my baby blog, in life, relationships, jobs, etc… you can't force anything to happen that isn't supposed to be. You have to have faith that what will be WILL! Take it from me, this is muchhhhh easier to type and read than it actually is to do, and I still have to remind myself of my discoveries daily, but it's the truth! I strongly feel that my urge to change and become better helped to prepare me for Marie Claire, and that this moment will prepare me for the next. I hope it helps you on your journey and that you feel apart of mine. Thank you for reading!
Creatively,
– Kori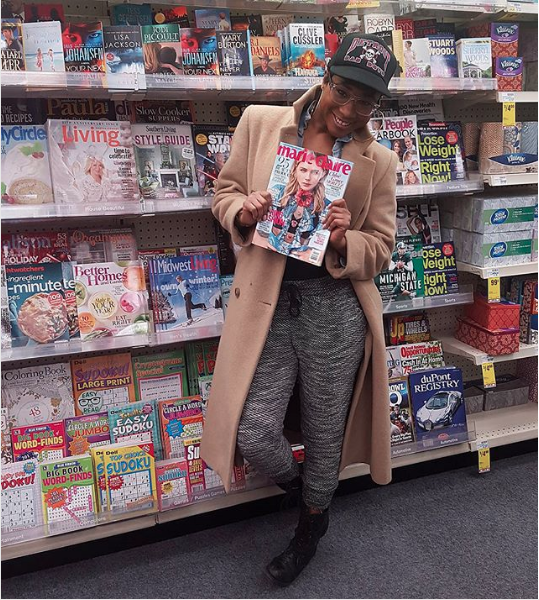 Do you have a Marie Claire moment of your own? Do share!!!!
XOXO